Indiscreet, one of our main mares, has amazing bloodlines including Landgraf I, Cor de la Bryere, Galoubet, and Alme. Her first baby is now a competitive equitation/medal horse showing the talent and athleticism of his lineage. Tyco is by Oh Star!
Odessa (Indiscreet x Oh Star)
Breeding Program
Committed to breeding quality hunter/jumpers with superior athletic ability, phenominal personalities, and exceptional movement. We selectively breed only the best with the best. Please contact us if you are interested in our foals.
Indiscreet
Indiscreet
TYCO (Indiscreet x Oh Star)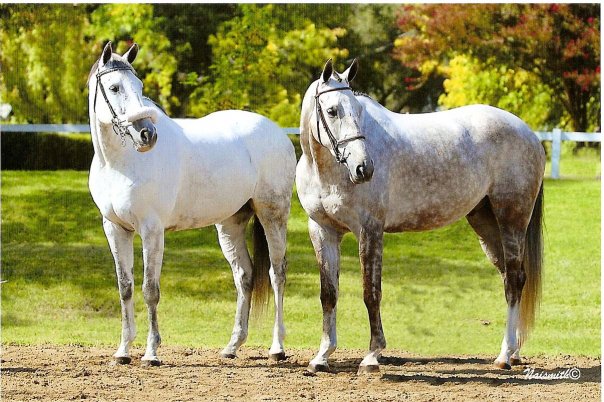 Indiscreet and Tyco
TYCO (Indiscreet x Oh Star)
2010 Filly (Indiscreet x Oh Star)
Odessa
2010 Filly (Indiscreet x Oh Star)
Odessa
2012 Filly (Indiscreet x Numero Uno)
Jedan
2012 Filly (Indiscreet x Numero Uno)
Jedan
2014 Colt (Indiscreet x Numero Uno)
Indecorous
2014 Colt (Indiscreet x Numero Uno)
Indecorous
2014 Colt (Indiscreet x Numero Uno)
Indecorous
2014 Colt (Indiscreet x Numero Uno)
Indecorous
2014 Colt (Indiscreet x Numero Uno)
Indecorous
MARES
Black Cat
with 2014 Filly
2014 Filly (Ustinov x Black Cat)
GAMAY BEAUJOLAIS
2014 Filly (Ustinov x Black Cat)
GAMAY BEAUJOLAIS
2014 Filly (Ustinov x Black Cat)
GAMAY BEAUJOLAIS
2014 Filly (Ustinov x Black Cat)
GAMAY BEAUJOLAIS
2014 Filly (Ustinov x Black Cat)
GAMAY BEAUJOLAIS
2014 Filly (Ustinov x Black Cat)
GAMAY BEAUJOLAIS
Reference Sires
Odessa
with 2014 colt
2014 Colt by Ustinov
Contigo
2014 Colt by Ustinov
Contigo
2014 Colt by Ustinov
Contigo
2014 Colt by Ustinov
Contigo
2014 Colt by Ustinov
Contigo